Submit Enquiry
It all starts here. Save time searching for wedding hair and makeup artists with our free service. Just fill out your wedding day details on the form below and discover the artists you might never have found.
Save time searching
Find out which Wedding Hair and Makeup Artists are available with just a single enquiry!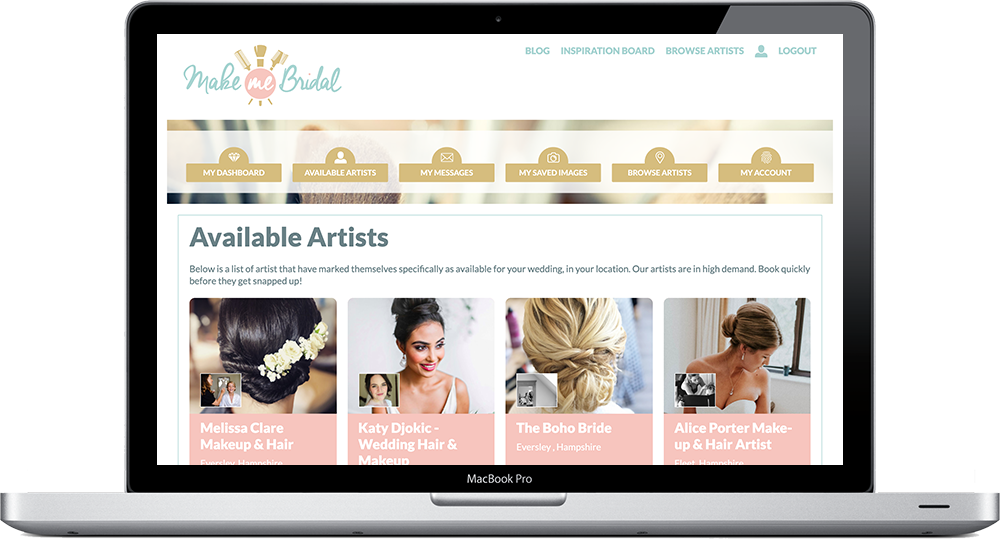 What other brides have to say...
I was able to find quality suppliers I needed almost instantly. This is a fantastic resource! Bride
The Make Me Bridal website is excellent and truly a saving grace because I planned my wedding in a very short time! It was so easy to use because of the three simple steps and I received very prompt responses to my request from lots of make-up artists. I found my make-up artist from this site. A Dias - Bride
I really enjoyed using this site as I was becoming overwhelmed with reaching out to hair and beauty suppliers with little to no response back. It was a refreshing experience using this site and being contacted by individuals who had availability and wanted my business. I would recommend this to other brides to be. Charis - Bride
This site made the process of finding a hair and make up specialist so easy from start to finish. Thank you! Sammy - Bride
FAQs
Here are the bits you may be wondering about. If you have more to ask then don't hesitate to get in touch.
How Much Will It Cost To Book An Artist?
It is absolutely FREE to sign up and send out your request. Once you have found your perfect bridal artist, all payments for the services required will be arrange directly with the artist at their agreed rate. Artists rates can be viewable on their profile page and will be variable depending on their experience, location and services.
What Is The Cancellation Policy?
Make Me Bridal has been created to help you find a suitable artist for your wedding day. Once you have chosen an artist, the booking is in your hands. It is therefore important that you view the artist's profile information, rates, testimonials, gallery and booking terms before you make your decision. We recommend chatting with the artist directly to ensure any further questions you have, are answered. In the event that you wish to cancel your booking, you must get in touch with the artist immediately and be prepared to cohere with their booking policy. Whilst we are not an agency and we do not manage the bookings made, we will log any complaints made against the artists on our network and investigate where multiple complaints are made, to ensure we maintain a high level of happy brides
Are You An Online Wedding Supplier Directory?
Not quite :)
Whilst we do offer an Artist Directory for you to browse our growing network of awesome wedding hair and makeup artists, we offer a FREE bridal enquiry service that will keep life simple. Make Me Bridal is more efficient than an online directory. Connecting the bride with only the profiles of artists who have indicated that they are still available for your wedding date and location.
Are You An Agency?
Nope, although like an agency we aim to help you book an artist more efficiently. We understand that planning your wedding requires a great deal of effort and time, yet you may find your evenings and weekends consumed by searching through directories and contacting suppliers who are already unavailable. Let's also consider that freelance hair and makeup artists are busy people too, and letting a bride know that they are already booked can end up on the bottom of their 'to do' list. Make Me Bridal will submit your wedding day details in 3 simple steps, to a large network of artists in your catchment area. Available artists will simply request for you to view their profile and consider them for your wedding day. If they are not available, you just won't hear from them! A little like a booking agency, but without the fees!
I've Found An Artist, What Happen's Next?
Great! You want to book an artist, you should now invite your chosen artist to view your private profile where they can access your mood board, wedding day details and logged conversations. From this stage the booking is in your hands and you will want to liaise directly with the artist about the trial, deposit, wedding day timings etc. You may also at this stage discuss having a 2nd artist for the wedding day. Larger booking and early starts will usual determine this. Your chosen artist may have a list of other recommended artists to point you in the right direction.
How Do The Testimonials Work?
After the wedding, the Make Me Bridal team will be in touch to ask you to review your artist and upload at least photo from your special day. Once this is submitted, the artist will get a chance to publish their review. Negative reviews will be logged in our database and repeat circumstances will result in further investigation. We aim to grow our network with brilliant, helpful and friendly artists. Whilst we can not make any guarantee to the bride of the artist's quality of work, we will work to receive feedback as a way of monitoring our network.