When it comes to bridal hairstyles, few are as chic – not to mention versatile – as braids. From textured updos to relaxed half-up styles or show-stopping chunky plaits, there's a braid for every bride's style (and hair length). Having had a renaissance over the last several years, braids have truly entrenched themselves as a wedding favourite. Whether it's box braids, fishtails, French plaits, knotted braids, twists, or Dutch braids, intricately woven or adorned with flowers or hair vines, braided bridal hairstyles will never go out of fashion!
"Plaits and braids can add a modern twist to any hairstyle," says Make Me Bridal pro, Laura Anne Hair & Makeup Designer. "From delicate braids woven into a bohemian up or down style, to a dramatic chunky braid feature which stands out even at first glance, they can be modern, fun, romantic and even structured. An ultimately versatile addition which can take any style to a whole new level."
Maidenhead-based hair and makeup artist, Oksana Williams, agrees: "Braids or plaits are the first thing I think of when a bride says she wants to have a relaxed, boho wedding. I love creating whimsical, dreamy looks and very often find myself visualising which hairstyle would suit each individual bride, even prior to her trial with me!"
Here, we've pulled together some of the most beautiful braided bridal hairstyles to inspire your look, as well as top tips from the from the Make Me Bridal pros.
Romantic Fishtail Braids
These beautiful loose and tousled plaits were created by Hampshire makeup artist and hairstylist, Jessica Cook. The first is adorned with fresh flowers, while the second (which Jessica created whilst on a boho bridal hairstyling workshop with the Bridal Stylists) includes a delicate seed pearl hair vine. Both are perfect for a romantic bride, and look especially stunning on highlighted hair.
Chic Braided Updos
Braids can also enhance a more classic bridal updo. In the first of these gorgeous hairstyles created by London bridal hair and makeup specialist, Laura Anne, a sweet mini plait makes a whimsical inclusion as part of a messy updo. In the second, a chunky French plait is pinned up at the nape, providing a stylish way of keeping hair off your face.
Chunky Knotted Mermaid Plait
Chunky plaits are a great way of wearing your hair down but keeping it in one place. They're ideal for brides who like to feel hair on their shoulders, but fear it won't hold a curl or will get messy too quickly. This look was created by Hampshire hair and makeup artist Melissa Clare, who shared her top tips for recreating the style.
"I use a sprinkle of texture dust on the braid to give it a volume boost. Just tap a little on to the plait before pulling it wider (or 'pancaking' it, the proper styling term). This will help to give it more impact. There are so many varieties of plait, and you can also use twists or knots like I did to achieve this chunky plaited style."
Dutch Halo Braids
For a beautiful, young, edgy tousled updo, try a Dutch crown (or halo) braid, like these styles created by our pro artist Oksana Williams. This 'round the head plait' look suits both straight and curly hair, and flatters most face shapes. It's a classic look that will never go out of fashion, and can be accessorised with flowers or hair vines.
"Very often clients' hair lack volume," says Oksana, "so in order to make plaits more chunky I use my fave tool: crimpers. (I own a few different ones in various sizes). The right choice of styling products is also very important in modern hairstyling, and texturising sprays, styling powders or dry shampoos are always a part of my kit. You can create multitudes of edgy, airy textures if you know exactly what every product was made to achieve."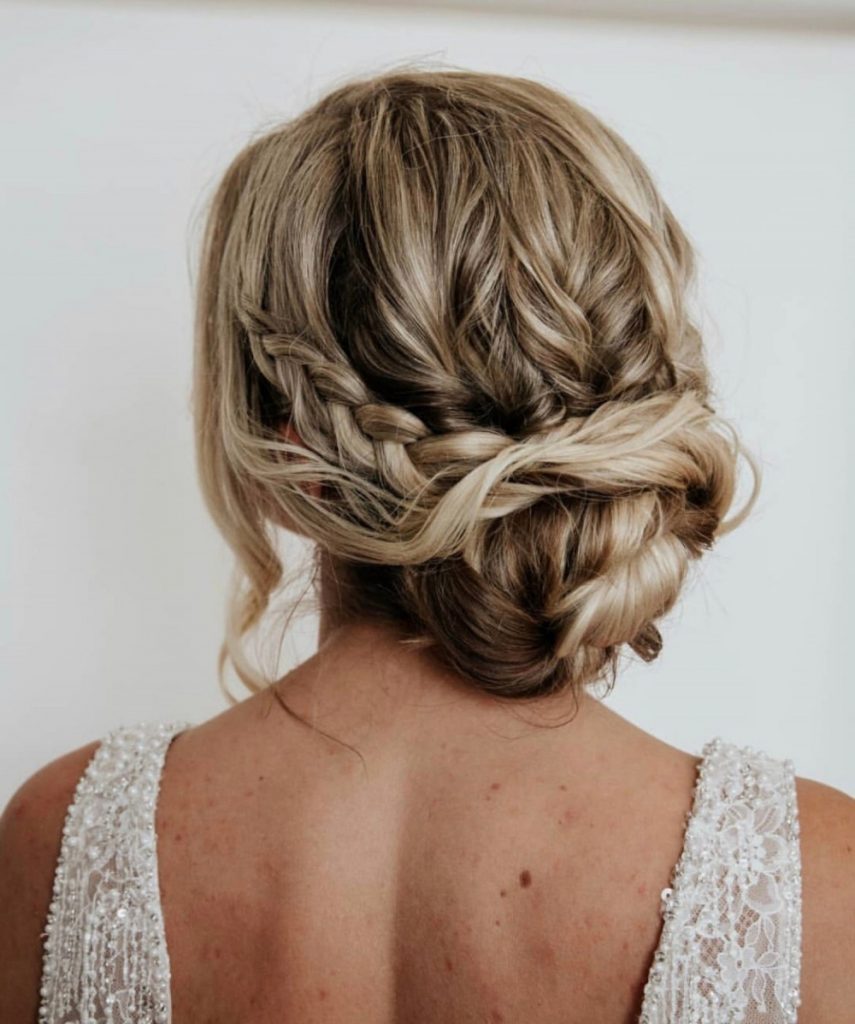 Tousled Bun with Braid Detail
Cornwall-based artist, HairbyEmmaC created this textured modern plaited updo with tousled braids leading down into a soft twisted bun. "I prepped the hair with curls and texture spray, and creating the style from twists and braids," Emma says.
Braided Beach Ponytail
For a modern beachy look, create a plait out of twists and finish the style with a cool ponytail, like this style from Melissa Clare. "I created this look for a bride who wanted to wear her hair off her face but still look relaxed and not too bridal, as that wasn't her vibe," Melissa tells us.
Half-up Dutch Braids With Beachy Waves
For a modern boho style, keep the hair shiny and healthy – over-processed curls are not the goal! This half up do with beachy waves and Dutch plaits by HairbyEmmaC gets the balance just right.
Which of these braided bridal hairstyles is your favourite?