If you're a bride-to-be, finding the most perfect hairstyle for your big day is just as important as finding the perfect dress!
A half up half down wedding hairstyle is a popular style choice for many brides, and its not surprising why!
This type of hairstyle allows you to showcase your hair length and texture while still keeping your hair out of your face. Plus, it's a classic look that will never go out of style!
One of the best things about half up half down wedding hair is that it works well with all hair types and lengths. Whether you have short, medium, or long hair, a half-up style can work for you. You can also add bridal hair accessories such as crowns, hairpins, or a veil to complete your bridal look.
Choosing the Perfect Half Up Half Down Wedding Hairstyle
Your wedding day is one of the most memorable days of your life, and getting the vibe right with a beautiful hairstyle becomes important! A half-up, half-down hairstyle is a romantic and elegant, versatile and practical look.
When it comes to creating the perfect half-up wedding hairstyle, there are many options to choose from. You can opt for a simple half-up look with a top half that's pulled back and secured with a hair tie or pins. Alternatively, you can add braids, twists, or curls to create a more intricate and romantic look.
Considerations Based on Hair Length and Type
Yes, this hairstyle can work on long hair AND short hair. If you have long hair, you can go for a waterfall braid or a fishtail braid for a bohemian or romantic look. You can also opt for loose curls or soft waves for a more relaxed natural bridal look.
If you have shorter hair, you can still achieve a half-up, half-down style by tying the top section of your hair into a high ponytail or a fancy updo. No probs!
If you have thin hair, you may consider using hair extensions to add volume and length to your hair. Bobby pins and hair accessories can also be used to add a touch of glamour to your hairstyle. For those with black hair, add fresh flowers or a wedding veil to your hairstyle for a touch of elegance. If you have straight hair, you can add some texture by curling your hair with a curling iron or using a soft braid.
Styling Techniques for the Perfect Look
You can use various styling techniques to achieve the perfect half-up, half-down wedding hairstyle. A deep side part can add a touch of sophistication to your look, while a loose braid can create a more relaxed and boho vibe. You can also opt for a delicate curl or a soft wave for a romantic look.
If you want a more formal look, you can opt for a fancy updo or a braided half-up, half-down style. A fishtail braid or a French braid can also be used to create a unique and gorgeous look. Adding a touch of glamour to your hairstyle with hair accessories such as a crown of your head or a hair tie can also make a significant difference.
Matching the Hairstyle with Your Wedding Look and Style
Matching your half-up, half-down wedding hairstyle with your overall look and style is pretty important. You want to be noticed on your big day, but you don't want to stick out like a sore thumb!
You can opt for loose curls or a soft braid if you have a bohemian or romantic wedding style. If you have a more classic style, you can choose a more formal hairstyle, such as a fancy updo or a braided half-up, half-down style.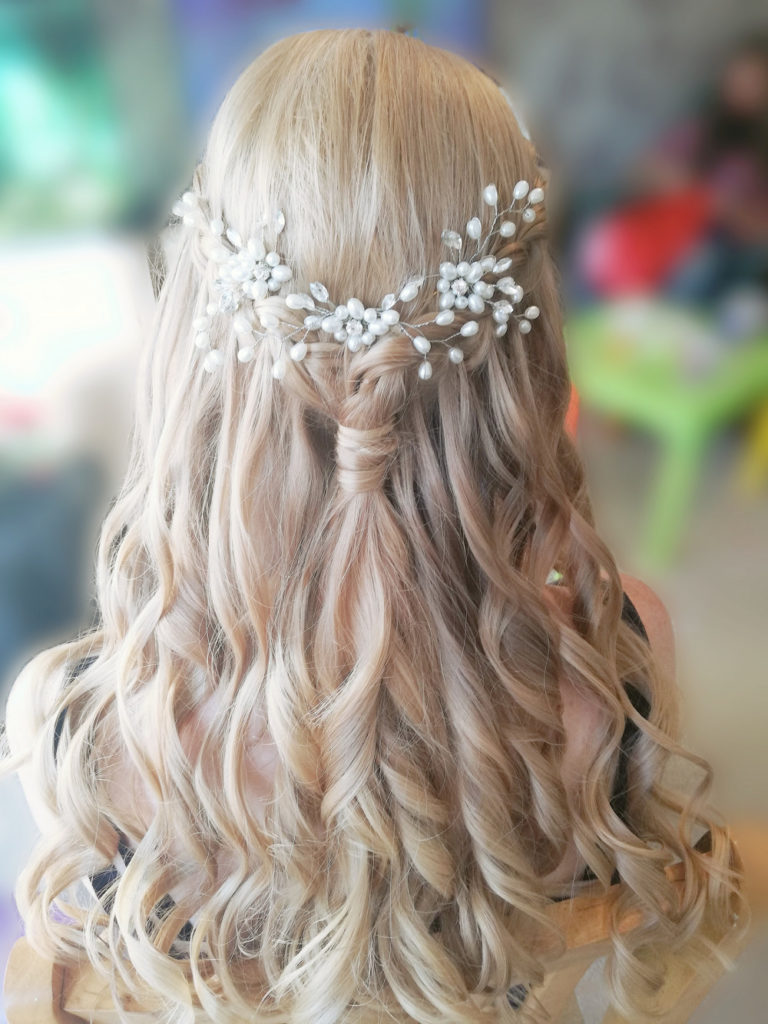 You can add a little extra oomph to your hairstyle by adding a touch of texture or using hair accessories. Whatever your style, a half-up, half-down wedding hairstyle is a great option to create a beautiful and elegant look for your perfect wedding day.
Not only is having your hair half-up half-down incredibly versatile and able to adapt to a wide range of hair types, hair lengths, and bridal styles, but it's also super practical.
A half up hairstyle is perfect for brides who want to keep hair off their face, especially on a hot summer's day!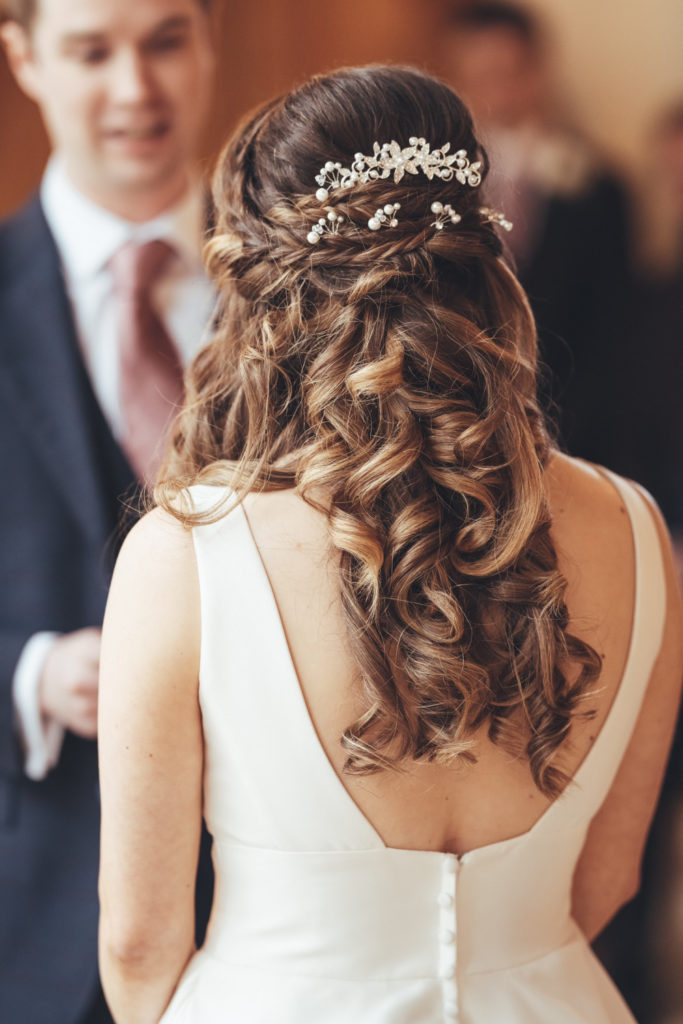 Expert Half-Up Half-Down Hairstyle Advice
And there's so much you can do with this hairstyle, from braids and twists to bows and bouffants. But with it being so versatile, how do you choose the right half up half down wedding hairstyle for you?
We asked Surrey hair and makeup artist Caitlin Haughton, for a few pointers. Caitlin is passionate about making people look and feel their best and believes there's no better time to do this than on their wedding day!
Take Hair Colour into Account when Searching for Half-Up, Half Down Inspiration
It's always a good idea to get lots of inspiration from blogs, magazines, and Pinterest when trying to nail down your bridal hairstyle ahead of your hair and makeup trial. Picture references can be super helpful for your stylist to understand the look and feel that you're trying to achieve.
However, it's important to remember that the style you choose may look different on your hair. "When searching for your wedding hairstyle, try to find images with a similar hair colour to your own," Caitlin suggests. "Textured hairstyles on darker hair can be less visible, so you could also consider adding some subtle lights or balayage to enhance the look."
Consider Adding Clip-in Extensions for Volume
Extensions are ideal for half up half down styles, especially if you're loving looks that have both intricate detailing and beautiful voluminous waves.
The more hair that is pulled into these elements, the less volume you have for the hair that is left loose. "Most of the time, clip-in extensions are added for half up styles to create more of a 'wow' factor," says Caitlin. "A lot of hair is sometimes needed to create the texture for the half up, especially adding twists and braids.
Having a few rows of clip-in extensions on the half that's down will ensure the curls hold and that there is still plenty of volume."
Think about the Texture for the Hair Down Portion of the Style
When choosing a half up half down wedding hairstyle, many brides focus on the 'half up' portion.
But the 'half down' hair is just as important. "Think about whether you prefer smoother, glamorous waves or more of a messy or beachy texture," Caitlin advises. In making your decision, it's important to take into account the overall look and feel of the wedding as well as your dress. Share these details with your stylist and they'll be able to suggest a few alternatives.
Beautiful Bridal Half-Up Half Down Hairstyles to Inspire
Want more inspiration? We've rounded up some more of our favourite half up half down bridal hairdos from the other Make Me Bridal Hair & Makeup Artists!
Best of all about going in this direction with your Bridal Look, half up half down wedding hairstyles can be interpreted in so many ways to suit your personal aesthetic, as well as the vibe of your wedding. Modern, classic, vintage or boho… there's a version for every bride.
A half-up half-down hairstyle is perfect for a low-key bride. This simple twisted style looks absolutely effortless, and would be perfect for a beach wedding. The sweet celestial hair pins add that little extra something.
One of the great things about this look is that it works on any length of hair, from a chin-grazing bob to ultra long tresses. Here, medium hair is given a gorgeous half-waterfall braid and soft waves.
A swept-up style reaches new heights with extra volume at the crown. One of the benefits of a bump is that the base is an ideal place to secure a veil, and also to remove it without disturbing your hairstyle later on.
Half up half down wedding styles are a great way to show off highlights. Lighter strands add brightness and dimension, especially when accented with soft curls.
This one is a showstopper! A half up half down bridal hairstyle finished with a bow fashioned from the bride's hair is something different, but oh so lovely. The softly curled ends add extra sweetness.
A pulled-back style with minimal to no hair left surrounding the face helps to draw attention to your facial features and makeup, as well as a pair of pretty earrings. The volume at the roots gives this extra glamour.
A flower crown is the perfect complement to a half up half down hairstyle, especially for a summer wedding. It mimics the hair's natural drape, which also makes it ideal for brides who have thinner hair. The bow is the sweetest finishing touch!
Take a half up half down do to the next level with a sparkly hair accessory, as this bride did. Paired with soft waves and neat twists, it's just so pretty. All kinds of hairpieces work well with this look, from gilded leaves to pearls to shimmering crystal.
Long, beachy curls, a mini fishtail braid, and floral embellishments? This bride has bohemian goddess style all wrapped up. Half up half down wedding hairstyles are perfect for achieving a romantic boho look.
For a fashion forward take on the traditional half up half down wedding hairstyle, have your stylist swirl your ends into an adorable bun instead of letting the tendrils hang down.
So, is a half up half down wedding hairstyle in your future? Thats up to you.
But we hope you have taken some inspiration from the beautiful brides above!
Related: Not looking for anything overcomplicated for your wedding day? Then check out our article on 10 Stunningly Simple Wedding Hairstyles!