One of the biggest trends for bridal hair at the moment is Hollywood waves. It's a look that has long been a go-to for vintage-inspired brides or as an alternative to an updo for glam weddings. But now Hollywood waves are being seen in a wider variety of settings. And it's no wonder – after so much time indoors, we're all craving some red carpet glamour! Sleek, feminine, and elegant, it's a look that's sure to make a big impact while having a timeless feel that won't date in photos. Ready to channel your inner bombshell? Take a peek at these gorgeous Hollywood wave hairstyles by our Make Me Bridal pros for inspiration.
Also known as 'cascading waves', the hairstyle has a long Hollywood history. It was made famous by movie starlet, Veronica Lake, in the 1940s. Her peek-a-boo locks were famous, and often emulated by ordinary women who learned the technique at home. Today, stars like Blake Lively and Lana Del Rey regularly wear the look on the red carpet.
So what IS the Hollywood waves hairstyle and how does it differ from a standard curly blow dry or tonged beachy waves? The main defining feature is that the waves run in one continuous line, which has a very polished effect. The other key elements are a deep side parting, and smooth, brushed out curls with volume at the roots. It can be a tricky look to get right yourself, so it's best to leave it to the professionals. One of our Make Me Bridal hairstylist pros will be able to create the look for you (check out our directory to find one close to you).
One of the best aspects of Hollywood waves is that they're so versatile. They can be looser and larger curls or more defined waves, depending on the level of glamour you want to create. They are flattering on all face shapes, and suit many different types and lengths of hair. (Although for shorter hair, finger and Marcel waves may be a better option, as they lie flat against the head.)
Hollywood waves also tend to last well throughout the day. Your hairstylist will add a light hairspray to keep it intact, but you won't have any falling updo dramas to worry about, so you can really let loose on the dance floor!
Since Hollywood waves are already a dramatic look, it's a good idea to keep accessories minimal. A jewelled slide or embellished hairpiece work perfectly, especially with the side parting. For a more organic, boho alternative, you could consider tiny flowers, tied into the waves.
If you want to wear a veil, a retro flyaway veil is a great option, as is a more formal chapel or cathedral length veil, placed at the back of the head. A mantilla or birdcage veil will hide the face-framing waves that are characteristic of this style, so are better avoided.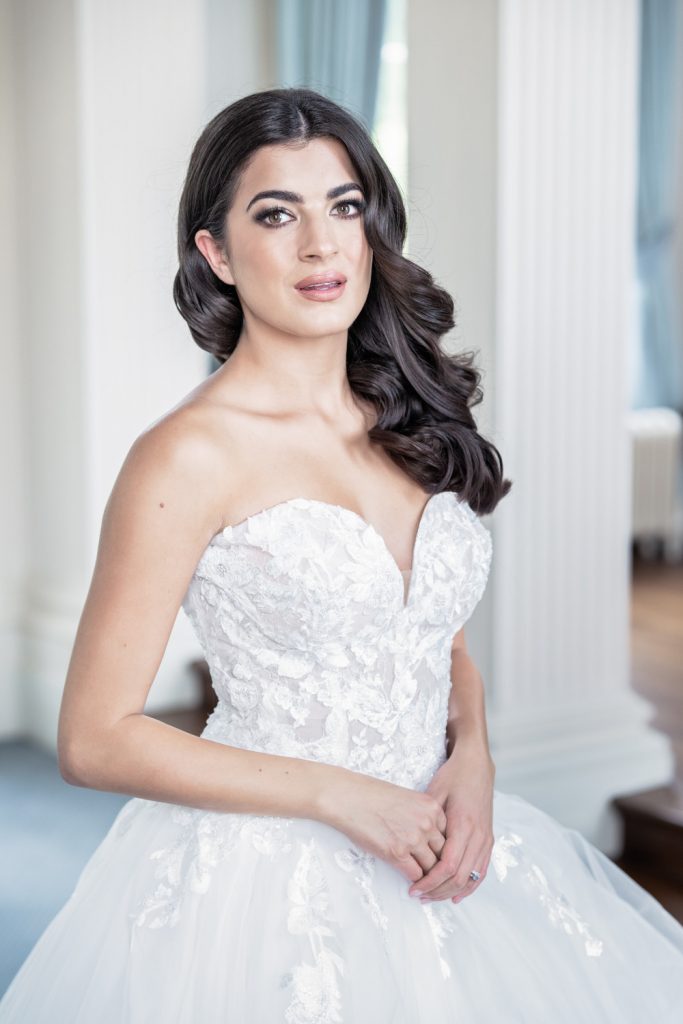 When it comes to makeup, it's really up to you. A classic combination for a vintage look is Hollywood waves with a bold red lip, but you can just as easily pair the style with a smoky eye, or with more natural makeup in earthy tones. Talk to your makeup artist to figure out the right look for you and your wedding style.