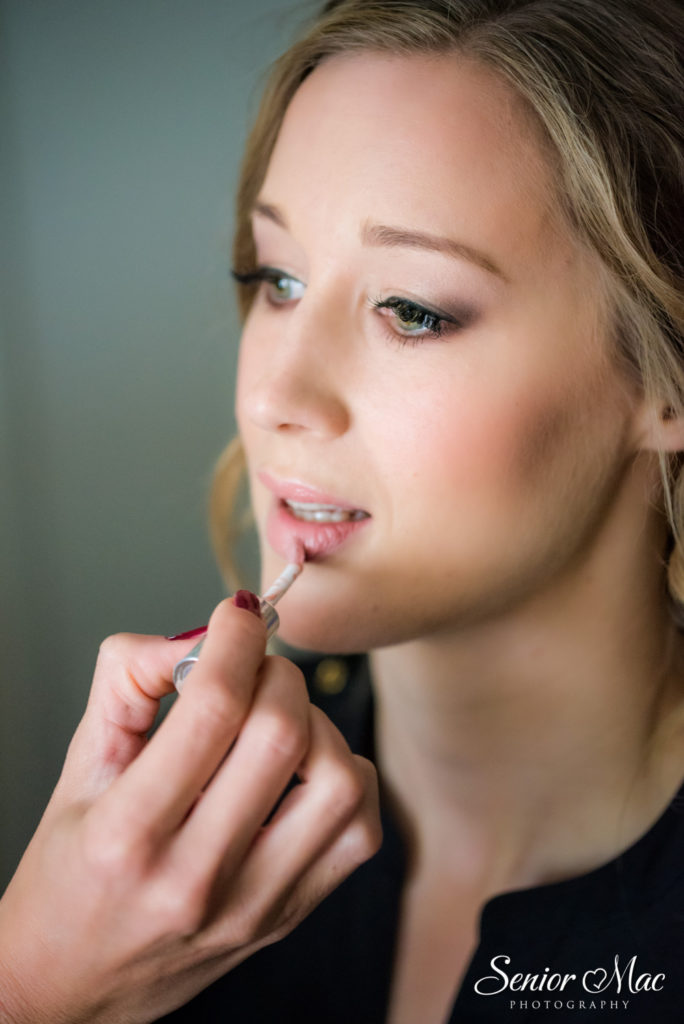 Thinking about becoming a Pink Lip Bride?
Well, a pink pout is more than just a lip colour choice; it's a statement of versatility and feminine allure that complements a wide range of bridal styles.
And with Barbie fever hitting us this summer, pink is super hot right now in fashion and makeup, and it's a perfect choice for modern brides.
The genius of pink lies in its vast array of shades that effortlessly harmonise with various hair colours, eye colours, and makeup styles. Whether you're drawn to pretty pastels, vibrant rosy tones or bright pops of fuchsia, pink lipstick is the secret weapon that can elevate your bridal look to a whole new level.
Lets get to our favourite Pink Lip Bride Looks!
Our Top 10 Favourite Pink Lip Wedding Makeup Looks
Here are 10 mesmerising bridal looks that embrace the magic of this timeless shade, courtesy of the talented Make Me Bridal pros!
Vibrant Pink Lipstick
For those seeking a bold statement without going with the full red lip, a vibrant pink hue strikes the perfect balance. Opt for a matte finish to avoid overpowering your overall look.
Delicate Pink Lipstick Look
A delicate, soft pink hue embodies romance and elegance – the perfect shade for a wedding. Pair a creamy neutral matte pink with a fresh base and a pink blusher for a dreamy wedding day look.
Understated Pink Lip Bridal Look
When going for a bright pink lip, keep the rest of your makeup understated. This bride rocks a bright pink lipstick with a flawless base and minimal eye makeup for an eye-catching lip-centric look.
Rosy Lips and Shimmer Combined
This bride embraces an elevated natural look with a rosy lip and a hint of shimmer on the lids. The combination of warm tones and pink lips also gives a subtle sunkissed radiance to the overall look.
Pink Lips and Winged Eye-Liner
Winged liner adds instant drama. Here, it combines with a soft pink lip colour to strike the perfect balance, resulting in a flawless finish with just a touch of swinging '60s style.
Striking but Soft Bright Pink
Embrace the vibrancy of a punchy pop of bright pink. This bride balances her defined eyes with a pink pout, creating a look that's both soft and romantic yet strikingly impactful.
Romantic Pink
For a touch of girly romance, opt for a monochromatic pink palette that weaves harmonious hues across your eyes, cheeks, and lips. Black liquid eyeliner adds a little extra definition to the look.
Understated Pink Lip with Smoky EyenMakeup
A neutral palette with a rosy nude lip exudes understated, natural elegance. A light smoky eye, gently flushed cheeks, and fluttery lashes bring this fresh-faced look to life.
Elegant Rose Lip Look
Pair smoky eyes and matte skin with a dusty rose lip for an elegant bridal look that exudes timeless beauty with a touch of vintage glam.
Soft Magenta Lipstick Look
A soft magenta lip is the ultimate finishing touch to this bride's makeup, mirroring the roses in her hair. It harmonises beautifully with a dark eye and defined brows.
By now, you should have a little more inspiration in your choice of lipstick for your big day.
If you need further help getting ready, Check out our Bridal Hair & Makeup Artist Directory, where you can find top bridal professionals in your area.
Related: If you have decided pink isn't your style, you might want to read our article on Red Lip Wedding Makeup