Have you ever wondered how Hollywood starlets manage to rock a flawless complexion as they strut the red carpet? It's not just good genes or expensive skincare. Often, it's down to an innovative cosmetic application technique called airbrush makeup.
The good news is that you can get airbrush makeup for your wedding too! After all, if there's one day you want to look and feel like the most beautiful, polished version of yourself, it's your wedding day. When done correctly, an airbrush application can provide you with a perfect finish. But how do you know if airbrush makeup is right for you?
We asked Makeup pro, Stephanie Alexandra, to share some pros of the technique with us.
What is Airbrush Makeup?
First, it's important to understand what airbrush makeup is. In a nutshell, airbrushing is a technique that uses compressed air to spray a fine mist of foundation, contour, highlight, and blush onto the skin gently and evenly.
As opposed to traditional or standard makeup application (i.e. liquid products applied with a brush or sponge), airbrushing is applied using a special applicator pen or gun. Some airbrush makeup is silicone-based, while others are water-based, and they come in a wide variety of shades and formulations.
The makeup is designed to be long-lasting and provides a flawless, natural-looking finish. Airbrush makeup is available in a range of shades and can be customised to match your skin tone perfectly.
Some of the main brands include Airbase, MAC, and Temptu, and Vegan airbrush makeup products are also available.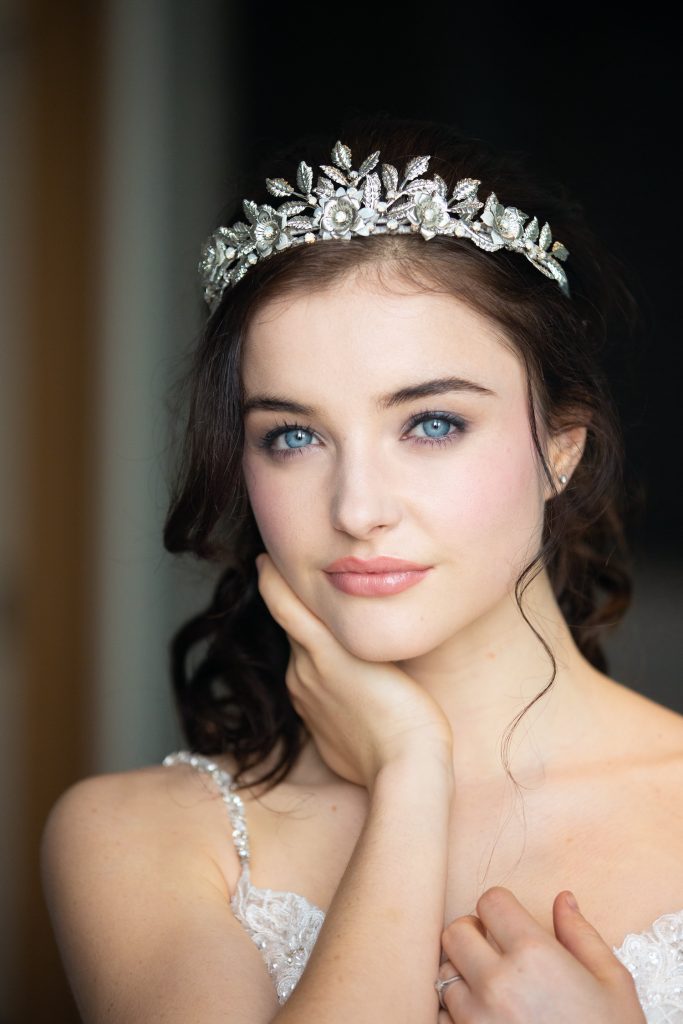 How is Airbrush Makeup Applied?
Airbrush makeup is applied using an airbrush gun, which is connected to a makeup air compressor. The makeup is sprayed onto the skin in a very fine mist, which creates an even and flawless finish. The airbrush gun is held about six inches away from the skin and moved in circular motions to ensure even coverage. The makeup can be built up in layers to achieve the desired coverage.
One of the benefits of airbrush makeup is that it is lightweight and does not feel heavy on the skin. It is also long-lasting and can withstand sweat and tears, making it perfect for weddings and other special occasions!
The Key Benefits of Airbrush Makeup
Airbrush Makeup is Long-Lasting
One of the best things about choosing airbrush makeup for your wedding is that it lasts all day long!
It is designed to stay on your skin for up to 12 hours, which means you won't have to worry about touch-ups throughout the day. This is especially important for weddings, where you'll be busy with photos, dancing, and other activities.
Says Stephanie:
"On your wedding day, you most certainly do not want to waste your precious time being stuck in the bathroom touching up your base where the foundation has worn."
Most airbrush makeup brands promise up to eighteen hours of wear, especially those that are silicone-based. Stephanie adds:
"Not only do they last longer but they are more water resistant, allowing for those tears, hugging, and kissing that inevitably come as part of the wedding day."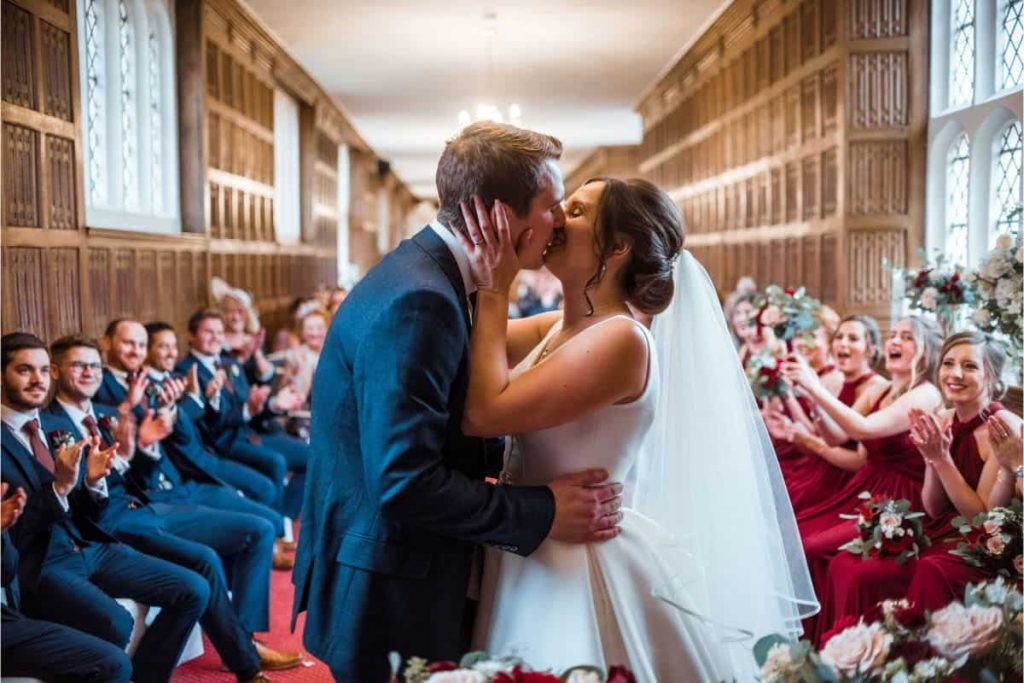 Airbrush Makeup Creates a Flawless Finish
It's no surprise, given its name, that airbrushing is known for the impeccably smooth look it gives your skin. Just what you need for a day where you'll be in hundreds of photos!
The airbrush gun sprays a fine mist of makeup onto your skin, which creates a smooth and even complexion that will last all day.
Stephanie explains:
"The product leaves the applicator in micro-fine pieces, which sit on top of the skin like a veil, meaning it tends not to cling to dryness and blemishes and allows for a more even and smoother application."
Airbrush Makeup is Lightweight and Easy to Layer
As a bride, you want to look just as good in person as you do on film. And that means you probably don't want to feel like you're wearing a heavy mask of makeup all day. Fortunately, a little goes a long way with airbrush makeup, and many brides say they feel as if they aren't even wearing any. Your makeup artist has complete control of how much product they apply, so they can apply fuller coverage only where necessary.
As Stephanie says:
"It is also super simple to layer the product as it dries quite quickly, so if you would prefer to opt for a fuller coverage this can be done without creating an uncomfortable, cakey finish."
Airbrush Makeup can be Applied on More People in Less Time!
If you have a large wedding party, airbrush makeup can be a great option. It can be applied quickly and efficiently, which means your entire wedding party can be ready in no time. This is especially important if you have a tight schedule on your wedding day.
You're not only ensuring everyone in your party looks stunning, but you're also keeping things on schedule. After all, who wouldn't want a smooth, stress-free wedding day?
Airbrush Makeup Works on all Skin Types
Airbrush makeup works on all skin types, which means it can be used on everyone in your wedding party. Whether you have oily, dry, or combination skin, airbrush makeup will provide a flawless finish that looks natural and beautiful.
So if you're a bride who wants to ensure her makeup will last without touch-ups all day, and who wants a smooth, flawless finish with a lightweight feel, airbrush makeup could be right for you.
And if you're not sure, Stephanie suggests doing a test run at your makeup trial:
"This is the perfect opportunity to know how it works, experience how it feels, and see how it looks. Your makeup artist will be able to provide you with advice and answers to any questions you may have."
Airbrush makeup is a great option for brides who want to look their best on their wedding day. With its long-lasting formula, flawless finish, and water-resistant properties, airbrush makeup is perfect for weddings.
So, if you're looking for a makeup option that will make you feel confident and beautiful on your special day, airbrush makeup is definitely worth considering!
Related: Check out our Beauty, Hair and Makeup Artist Directory if you are looking for Wedding Hair & Makeup in London, Bridal Makeup in Merseyside, or anywhere else in the UK! We have your Bridal needs covered!