On the hunt for some cruelty-free makeup to suit your vegan wedding? Check out our top animal-friendly products and tips from our vegan and cruelty free Pro Artists, Emma Olliff and Toni Searle.
Vegan and cruelty free beauty is becoming increasingly popular these days and with significant number of brides requesting a cruelty-free MUA more and more hair and makeup artists are stocking up their kits, so you can look and feel beautiful on your wedding day without compromising your ethical beliefs. Professional hair and makeup artists Emma Olliff and Toni Searle will talk you through their journey in offering alternative beauty options to brides and share their tried and tested vegan products, to keep you looking perfect until the late hours of your wedding day.
When and why did you become a vegan / cruelty free hair & makeup artist?
Emma: I've been a vegan / cruelty free hair and makeup artist since I started. I believe that we all have a responsibility to live as ethically and kindly as possible. Using Cruelty Free & Vegan cosmetics is another way of doing that. At a time when many cosmetic companies are putting profit over ethics, I believe it's down to the consumers and professionals to demand cruelty-free cosmetics. I am dedicated to providing the best, top-quality cosmetics with no animal ingredients or insect based pigments. I also use cruelty-free synthetic hair brushes.
Toni: I switched my kit to cruelty free back in 2016. I suppose the reason was that the thought of testing on animals had been niggling at me for a while, and I hated that I was contributing to it. So I decided just to switch! Gradually I became vegan and at the same time I learnt more about the importance of the ingredients going on to your skin. Once you know what the animals by-products in our makeup actually are, it just puts you off using it!
Skincare is a very important part of Bridal prep. Do you have a brand or regime that you would recommend to brides to get their glow?
Emma: It really depends on skin type and what they need! But brands I love are LimeLife by Alcone, Evolve or Aurelia Toni: I recommend Arbonne. Always cleanse at night to remove makeup - try to avoid using wipes as this doesn't clear your pores (which contributes to spots) and makes your skin dry. Exfoliate 1-2 times a week to get rid of dead skin cells which can also clog pores, and use the correct moisturiser for your skin type. And the most important thing is looking after your skin from the inside! Try and take notice if something you eat or drink makes your skin react after consuming, and cut it out.
With well prepped skin, bridal makeup will sit better and last longer on the big day. Are their any great vegan foundations or powders that are a staple part of your kit?
Emma: Everyone is completely unique and that is how I treat them - I have a huge range of different foundations and colours and will mix to create the perfect colour and consistency for each of my clients. The brands that I love using include: Charlotte Tilbury, Limelife by Alcone, Cover FX, Delilah, Mirelle, Illamasqua, Makeup Geek, Zoeva, NYX, Tarte, The Ordinary ... the list goes on!
Toni: I love Arbonne, Kat von D Beauty and Charlotte Tilbury's vegan range the most. For dry skin, definitely avoid powders! I like to use Arbonne CC Cream as it has a dewy sheen to it, which gives your skin a lovely glow, finish with a fixing spray to make sure it stays put. For more coverage, I stick with my Arbonne Perfecting Liquid Foundation as it just stays put, and feels light and comfortable to wear all day.
In the past vegan makeup has been criticised for not having enough impact or lasting all day. Which eye colours do you find are long lasting and punchy?
Toni: There is a new brand by Revolution called Obsession - I was so surprised at the pigmentation of the eyeshadows and how long it lasted! I picked up a gold highlighter palette by them for £6 and have been using the colours as eyeshadows - they are amazing! I also love the Charlotte Tilbury eyeshadow, and if a bride wants a super natural look then Arbonne is my go to.
Are there any 'go to' lipsticks you reach for in your kit, popular choices. Can you recommend a long lasting option that is vegan and cruelty free?
Emma: Charlotte Tilbury's are my go-to's. Pillow Talk is an absolute classic, but I also regularly find myself reaching for: Bond Girl, Bitch Perfect and English Beauty. I'm also a big fan of LimeLife By Alcone's Enduring Lip Colour's which are a long-lasting matte but not drying formula.
Toni: Kat von D Liquid Lipstick in Lolita - stays put and is a great neutral shade for brides.
And can you recommend a good lip balm?
Emma: Dr Paw Paw is the best!
Toni: Dr Paw Paw. Also, use a lip scrub when you feel your lips are a bit dry. I love the one by Fairypants.
Are there any up and coming brands that we should be looking out for?
Emma:
Cover FX - they are fab for base and highlighters
Axiology - gorgeous lipsticks - but not the best for longevity so you will need to keep this in your wedding beauty bag for touch ups.
Spectrum - do fab affordable brushes
Deciem / The Ordinary - this company does very affordable great vegan skincare and foundations.
Toni:
Zao Makeup has been recommended to me a few times recently! I love that their packaging is all bamboo rather than single use plastic.
Moving on to bridal hair, it is important to get the scalp in balance and ends in good condition in the run up to the wedding. Are their any vegan / cruelty free HAIRCARE brands you recommend?
Emma: At the moment my go to brands of choice would be Maria Nila or Paul Mitchell
Toni: Love Beauty & Planet Muru Muru Butter and Rose Shampoo and Conditioner is working for me, but I still would like to try out more brands. A lot of people love Superdrug's own range, however I found it made my hair quite dry, everyone is different! My hairdresser sells Kevin Murphy, who has a vegan range and I did love that one.
What hair styling product do you use in your kit for creating beautiful bridal hairstyles?
Emma: I use Knight & Wilson heat protection spray - I see a lot of hair stylists never use heat protection but heat can break your hair! If you're after a smooth style you definitely need this. Bleach London Hard AF Hairspray is amazing - your hairstyle will not budge. I also use Superdrug Smoothing Curl Cream to make sure curly styles don't become frizzy, and this is really good.
Toni: I'm a big fan of Paul Mitchell Heat seal - it protects your hair when styling and it smells fab too. I use Maria Nila Ocean Spray when needing to add texture to the hair. Hairspray is essential when styling bridal hair - my favourite would be one from the Maria Nila range depending on the hair type I am working with.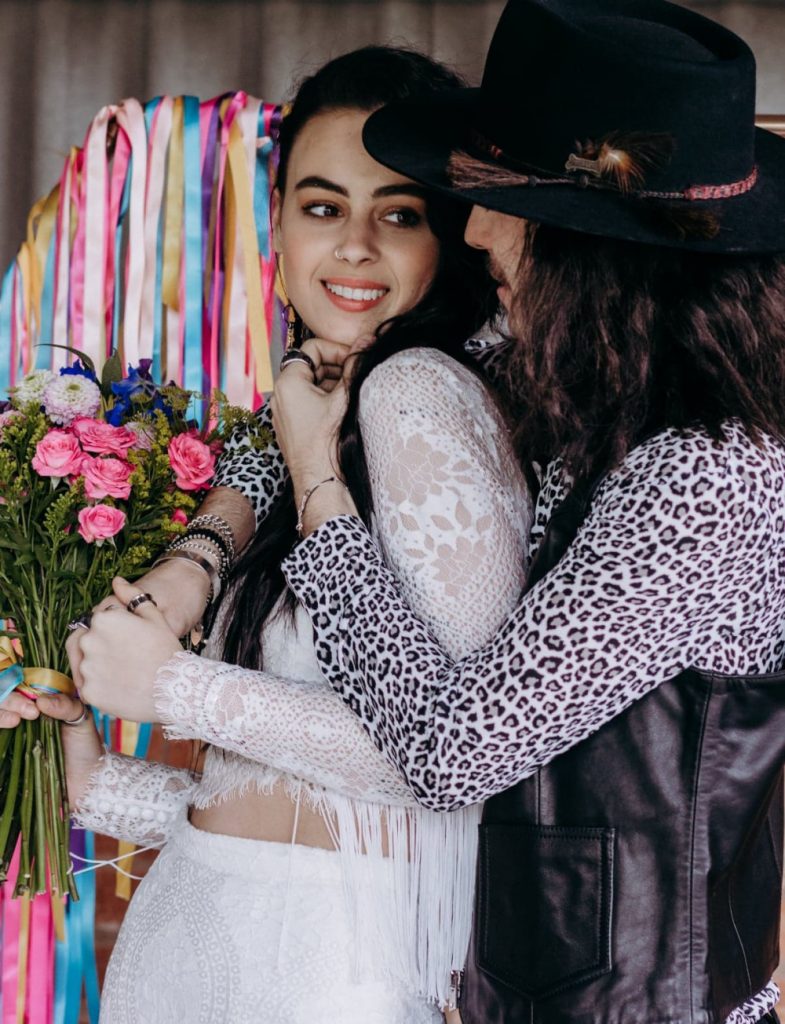 What have been the challenges of being a vegan and cruelty free bridal artist?
Emma: I don't think I have faced any really big challenges. However, there are many clients who tend to be fixated on you having the big brands like MAC or Chanel in your kit - which I don't. However, there are now several high-end brand that are making fabulous vegan and cruelty free makeup so there is really no excuse!
Toni: The one thing with vegan products is that they are much more expensive than their animal tested equivalents. It is also quite hard to figure out what you can use when you first switch over to vegan / cruelty free products. A lot of brands policies are explained in a complicated way and it gets very confusing. I found 2 blogs who keep their list really up to date - Cruelty Free Kitty and Logical Harmony. If you are not sure on something, just look it up on their lists. Lastly as lot of the vegan / cruelty free brands are to available on the high street, I have to make sure I stock up so I don't ever run out of anything last minute.