When it comes to bridal makeup, there are so many gorgeous eye looks to choose from. If you love the natural look, earth tones and neutrals are a clear choice. But if you like a bit of drama or want to literally sparkle and shine, a little glitter is the way to go! But let's be honest, you don't want to look like a teenager at a music festival on your big day. It's all about elegant glamour rather than over-the-top bling, but done right, shimmer eye makeup can be a great bridal look. Here are some top tips to follow to ensure your eye makeup is flawless and tasteful, along with some stunning inspiration from the Make Me Bridal makeup pros.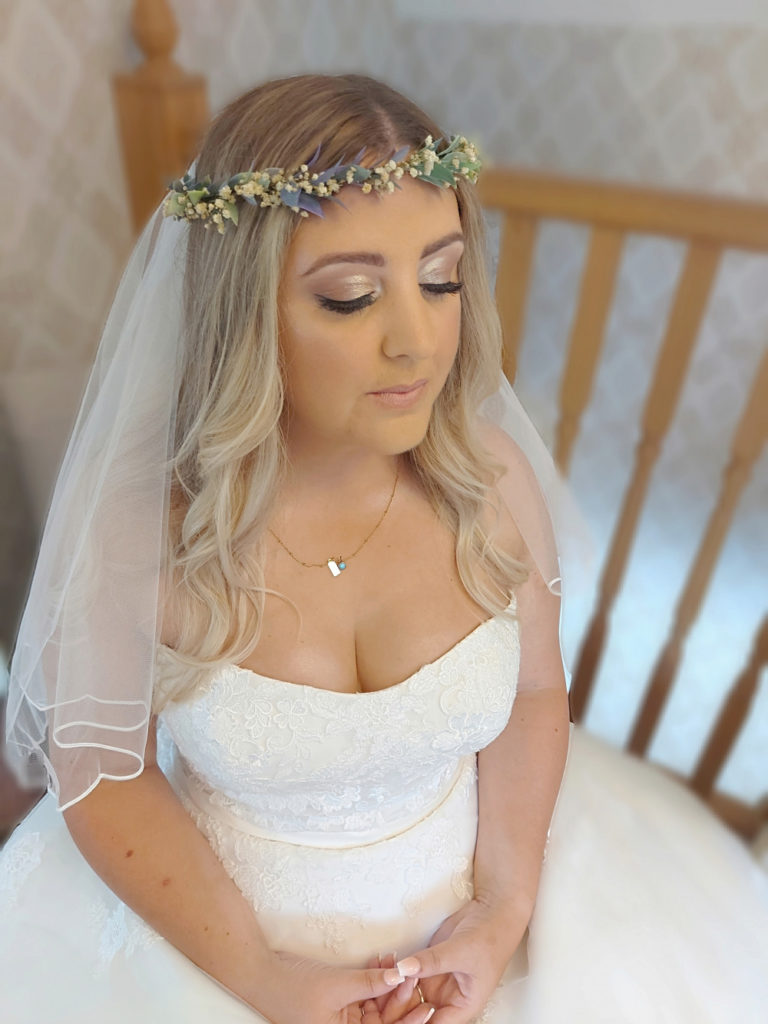 Choose a fine shimmer rather than a glitter. Shadows with a subtle. microfine shimmer are extremely flattering and pretty in photographs. However, loose glitters and chunky sparkles will reflect as white dots in photographs. They also tend to drop glitter on your cheeks. If you can see individual flecks, steer clear (or save it for the hen do!).
Choose a colour that complements your skin tone. Some shimmers will look unnatural on light or dark skin tones while others look particularly flattering. For example, shimmery gold eye shadow often looks particularly lovely on darker skin tones. Be sure to test a colour before you buy it and to have a makeup trial before your wedding day so that your makeup artist can find the right combination for you.
Choose a shimmer that suits your eye colour. Different shimmers flatter different eye colours. For example, if you have hazel eyes, a bit of amber shimmer can bring out the same colour in your irises. For green eyes, bronze is a great choice while cooler shimmers are particularly flattering for blue-eyed girls. Again, your makeup artist can advise and try out a few options at your makeup trial.
Place the shimmer carefully. For a gorgeous look that flatters almost every bride, place the shimmer in the centre of your lid above your pupil or at the corners of your eyes.
Keep the rest of your look simple. If you're going for a shimmery eye makeup look, then don't go full-shine on the rest of your makeup as well. A simple lip is also a good option as it allows the eyes to remain the focus.
Still looking for the perfect makeup artist for your big day? Check out our directory to find one in your area!