If you've been blessed with naturally curly hair, there's never been a better time to embrace your natural texture. But as any curly girl will tell you, kinks and coils are far from effortless!
And finding curly wedding hairstyles fit for you can be a nightmare!
As you know, curly hair can be unpredictable and is prone to either frizz or flatness, depending on the weather, products, and many other factors. But that doesn't mean you can't make them work for you as a curly-haired bride!
In fact, naturally curly wedding hairstyles are some of the most gorgeous, with their romantic vibe and ability to work well with flowers, veils, and accessories. You need to know what to do. So below, we've rounded up ten stunning styles for curly brides, some top tips for keeping your mermaid mane under control, and some fab inspiration from the Make Me Bridal hair and makeup pro directory .
10 Styling Options for Curly Haired Brides
Curly Textured Updo
A textured updo is great for those who want to keep their hair off their face but still want to show off their curls. This style works best with medium to long hair and can be achieved by pulling the hair up into a loose bun or twist. Add some texture by pulling out a few strands of hair around your face and curling them with a curling iron.
A textured updo is an effortlessly romantic option for curly hair. The curly strands will add dimension and volume to the style, making it look far more intricate than it is to create. Keep it simple with a tuck or bun and accessories with pretty clips or a hair vine.
TOP TIP: If you want to wear a veil, a simple tulle number is your best bet to complement (and not compete with) your hair's texture.
Curls with Fresh Flowers
Wedding Hairstyles with Flowers are a beautiful addition to any bridal style, but they work especially well with curly locks. You can weave flowers into your hair or simply tuck them behind your ear for a romantic and whimsical look.
Curly locks are an ideal base for fresh flowers, whether it's loose blooms or a floral crown. Not only will they help to hold the flowers in place, but the natural look of curls also combines excellently with florals to create a boho vibe.
TOP TIP: Secure flowers with hair combs or U-shaped pins instead of bobby pins if possible, as they hold more hair.
Free Flowing Bridal Curls
Sometimes the best wedding hairstyle for curly hair is simply to let your coils and ringlets flow freely. The bigger, the better! A delicate touch of gypsophila adds an unexpected and sophisticated touch here, without taking anything away from the mane attraction.
TOP TIP: Keep your hair hydrated. Don't wash it too often, use an old tee shirt or microfibre towel instead of a terry cloth one, and make hair masks and leave-in conditioners part of your routine. Depending on your hair, your last wash should be a day or two before the wedding itself, to ensure it is in its most workable state.
Curly Bridal Hairstyle with a Centre Parting
Another good option, if you're letting your curls run wild, is to go with a centre parting and top with a statement crown accessory. Even if your hair is big, don't assume your makeup has to be understated. The bold berry lip is a clever finishing touch here, balancing the look out beautifully! A centre parting is a classic wedding hairstyle that truly works well with curly hair.
TOP TIP: Run a little oil through the ends for extra shine and hydration.
Curly Bridal Hair with Braids and Plaits
Braids and plaits are a good addition to any curly wedding hairstyle as they add additional texture and volume in keeping with the look you've already created. This playful style is a play on the French braid, with curls left loose from the nape of the neck so you get the best of both an up-and-down-do.
Braids and plaits are a great way to add some interest to your wedding hairstyle. You can braid your hair into a crown or fishtail braid or add a few small braids throughout your hair. This is also a great option for those who want to keep their hair out of their face!
TOP TIP: Keep those ends trimmed and healthy! To make sure that your hair is in its best condition leading up to your wedding, ensure you cut it regularly – your last haircut should be around a month before your wedding day.
Half Up Half Down Curly Hairstyle
Speaking of the best of both, a half up half down hairstyle is a fabulous option for any curly girl bride. It allows your curls to fall naturally but still look neat and chic, and will also keep your hair off your face. You can pull the top half of your hair back into a loose bun or twist and let the rest of your curls flow free.
Curly Bob or Lob
A bob or lob is a great option for those who want a low-maintenance hairstyle that still looks chic and stylish.
Long isn't the only option for wearing curly hair loose at your wedding. A bob or lob is another flirty option. This one is absolutely gorgeous!
Curly Bridal Updo Hairstyles
A curly updo doesn't have to be low and loose. Instead, channel all your princess vibes into a tiara-topped updo, with a few loose tendrils hanging down to frame the face.
You can pull your hair back into a loose bun or twist and add some texture by pulling out a few strands of hair around your face and curling them with a curling iron.
TOP TIP: Your curls will help your updo stay in place all day and night. However, you might want to let your hair down (literally!) at the reception for a different look, especially if you're rocking a second wedding dress.
Curly Bridal Ponytail
Bridal ponytails are on-trend and are a gift to curly brides. Once you slick your hair back into a ponytail, you won't have to worry about frizz or flyaways. A high pony like this one looks particularly glam and will help to show off your gown, especially if it has a shoulder detail like this one.
If you want a simple but elegant wedding hairstyle, a curly bridal ponytail is a great option. You can pull your hair back into a low ponytail and add some volume by teasing your roots.
TOP TIP: Keep some smoothing serum on hand throughout the day to keep your mane frizz-free and tame any flyaways.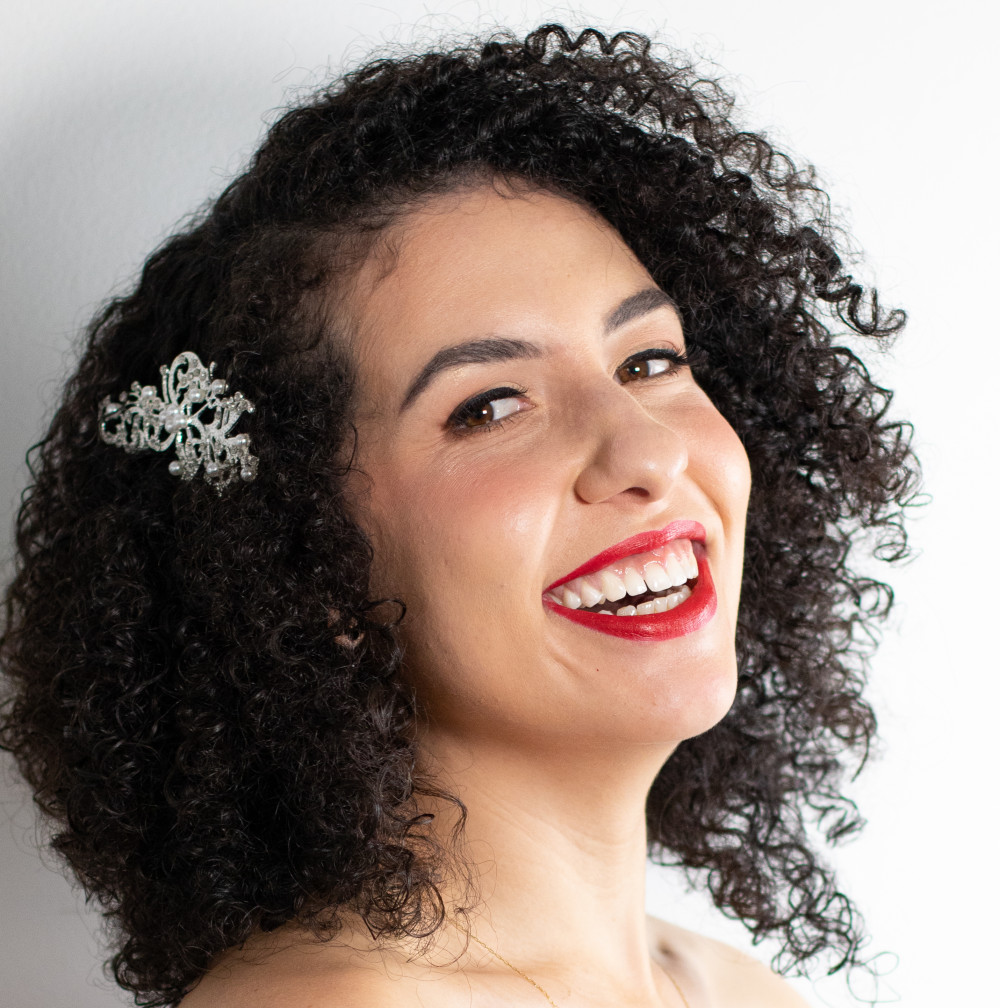 Curly Wedding Hairstyles with Accessories
Perhaps the easiest style but one that's quintessentially bridal is to slide a gorgeous clip or accessory into your curls, creating contrast with the curl texture and a touch of sparkle!
If you want to add a playful touch to your curly wedding hairstyle, consider adding some fun accessories. You can use bobby pins with decorative designs or add some sparkle with glitter hair spray. Just make sure to keep it tasteful and in line with your overall wedding style.
TOP TIP: Keep it simple! Your hair accessory shouldn't compete with your hair texture, just add a little more detail or sparkle.
10 Tips for Rocking Curly Hair Wedding Hairstyles
All of us who have waves, kinks, coils and ringlets know, the path to perfect hair is anything but smooth. That's why we're here to help you achieve fabulous, frizz-free locks on your special day.
From enchanting ringlets to voluminous waves, here are some top-notch tips to make sure your bridal hair is as stunning as can be!
1. Embrace Your Curls
First and foremost, embrace your natural curls! The key to amazing bridal hair (and a look that feels most like you) is working with your natural texture. Begin your hair care routine early and get regular cuts and treatments to make your curls the best they can be on your wedding day.
2. Find the Right Stylist
We all know finding the right hairstylist is as important as finding the perfect dress. Look for someone experienced with curly hair, who understands the intricacies of those lovely locks. They'll know the ins and outs of your unique texture and can recommend styles that work best for you.
3. Hydration is Key
Curly hair thrives on moisture, so be sure to invest in a good hydrating shampoo and conditioner. Regular deep conditioning treatments will also help to keep your curls happy and healthy. Let your hair air dry whenever possible. If you must use heat styling tools, be sure to use a diffuser attachment.
4. Experiment with Styles
Curly hair is versatile! Don't limit yourself to one style. Experiment with updos, half-up styles, or even letting your hair down. Twist-outs, braids, or a classic curly bun – the choices are endless! Your stylist can work their magic to find the perfect style that complements your dress and your vibe.
5. Practice Makes Perfect
Don't leave your bridal hairstyle to chance. Schedule a trial run with your hairstylist well in advance to ensure you are on the same page. This will also give you a chance to experiment with various looks and find the one that suits you best.
6. Accessories are Everything
Enhance your wedding day look with curl-friendly hair accessories. Combs, pins, and headbands can all be incorporated to create a unique style that suits your hair texture. The great news is that curls will also help to keep accessories in place. From delicate hairpins to floral crowns or a sparkly headband, accessories can take your bridal hair game to the next level.
7. Consider the Weather
Remember to take into account the weather conditions on your big day. Humidity can be a curly girl's worst enemy! Make sure your hairstyle is weather-proof and can withstand any unexpected elements that might pop up during your celebration.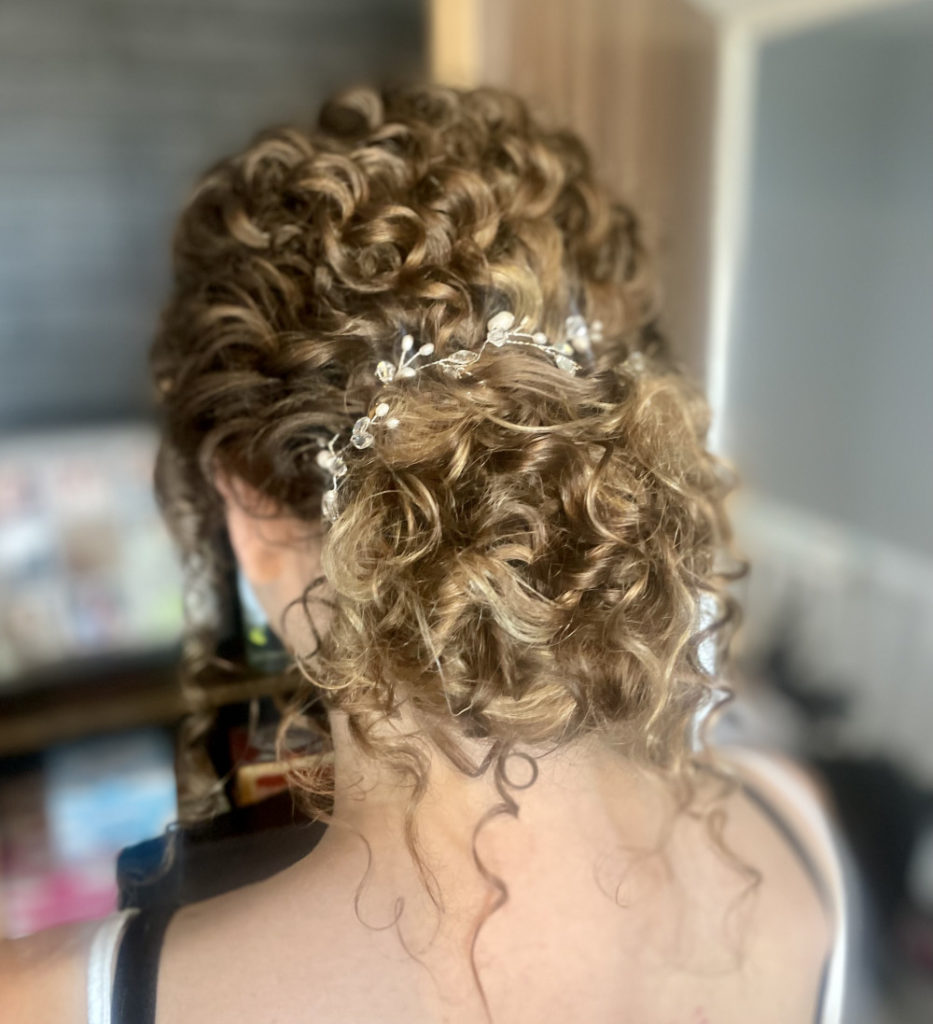 8. Keep the Frizz in Check
While a little frizz adds character to curls, nobody wants to look like they stuck their finger in an electric socket! Use anti-frizz products to keep those flyaways at bay. A good hairspray can be your best friend in ensuring your curls stay put. Also look for curl-enhancing products, such as curl creams and gels, to define and hold your curls in place.
9. Do a Test Run with Your Veil
If you're planning to wear a veil, consider the placement. A veil secured underneath a bun or within a low updo can beautifully showcase your natural curls while still creating that classic bridal look. Make sure to do a test run with your veil during your hair trial. This helps your stylist figure out the best way to secure it without messing up your gorgeous curls. Plus, it gives you a sneak peek at how the whole look comes together.
10. Confidence is Key
Last but not least, wear your curls with confidence! Your natural hair is beautiful, and it's a part of what makes you, YOU. Embrace it, own it, and rock it on your wedding day. Confidence is the best accessory any bride can wear.
With these tips in your curly girl arsenal, your wedding day hair will be nothing short of fabulous. So, unleash those curls, put on that dazzling smile, and get ready to steal the spotlight!
You too, can find the curly wedding hairstyles that work great for you!
Related: Are you looking for more natural hair inspiration? See our roundup of afro hair ideas here.