One of the questions that pro hair artists often get from brides-to-be is:
"Do all my bridesmaids need to have the same hairstyle?".
The short answer is... No
No rule says your bridesmaids have to rock an identical look, although that's one of the options available to you (and is more traditional).
These days, just like many brides are choosing to follow the mismatched bridesmaid dress trend, they're also allowing their bridesmaids to wear a hairstyle of their preference. But how do you make your bridal party look cohesive? And how does it affect your own hairstyle?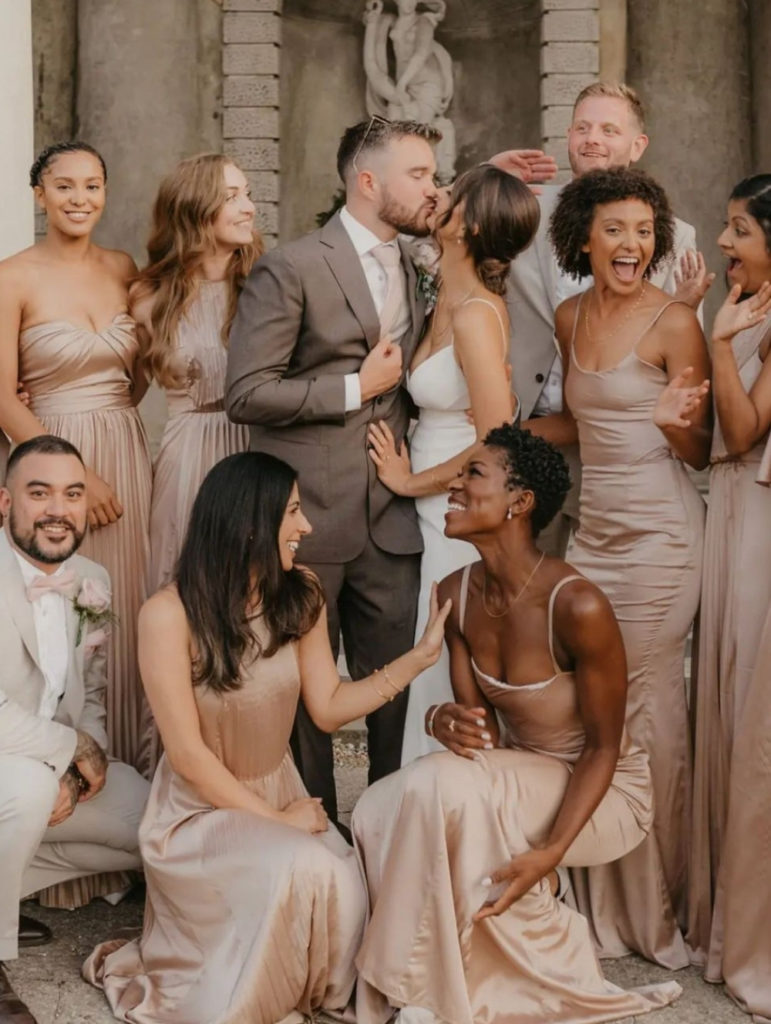 Let Your Bridesmaids Embrace Their Own Style!
The fact is that your bridesmaids are a wonderful mix of personalities. Letting them embrace individuality is one way to allow their uniqueness to shine through. Another consideration is that you're probably working with a range of different face shapes and hair lengths and textures, and it's hard to find one style that will suit them all.
When your squad feels comfortable and confident in their chosen hairstyles, they're more likely to radiate happiness – and that energy is contagious! Eliminating the stress of coordinating a single hairstyle can also lead to happier bridesmaids and a more relaxed wedding morning.
Tips For Co-Ordinating Bridesmaids Styling
Of course, giving your bridesmaids the freedom to choose doesn't mean it's a hairstyle free-for-all! You still want to make sure that the looks they choose suit their dresses and the overall style and formality of the wedding. Having a few gentle guidelines can help to keep everyone on the same page.
Consider your Wedding Style
If your wedding has a specific theme or colour palette, ask your squad to opt for hairstyles that enhance the overall aesthetic—for example, boho or sleek and formal.
Imagine How the Styles Will Work Together as a Whole

Having one bridesmaid with long, flowing locks and another with a sleek bob can work beautifully if they both have their hair down. However, a mix of beachy waves and elaborate updos probably won't gel.
Harmonise Accessories
Wearing the same or matching hair accessories can be a great way to create a cohesive look. Please communicate with your bridesmaids to ensure their accessories will work together. Alternatively, you could give each of them an accessory as a gift, which also gives you more control over the look.
Tips for Mixing Hairstyles
Now, let's talk about some creative ways to mix and match hairstyles without sacrificing an ounce of elegance.
Up or down?

The simplest way to co-ordinate styles is to have all your girls wear their hair up or all down, but with a variation of styles. However, you can also mix up and down dos work – for example, boho waves with relaxed, messy updos.
Braids?
Asking all your girls to incorporate braids is a great way to incorporate a matching element but still give them many options. There are so many braided hairstyles to choose from!
Half and half?
How about a mix of half-up half-down styles? This style offers a harmonious balance between polished and relaxed and will work on various hair lengths and textures.
Accessories?
If you adore a particular hair accessory, encourage your bridesmaids to incorporate it in their unique way.
Of course, you'll also want to make sure that your own style works with all of these others. Again, consider the vibe of your wedding. The bride should wear an elevated style that suits the event. Accessories can also be useful here – for example, you may all wear your hair down, but maybe only the bride will wear a statement accessory. You could also opt for an updo where your bridesmaids wear theirs down, or vice versa.
Finally, while you want to celebrate individual choices, how you communicate with your bridesmaids will help to ensure that everyone's on board. Have a chat with your girls about your thoughts on mixing hairstyles. Ask for their opinions and comfort levels, and make sure they feel heard and supported in their choices. You should also share a few sample photos to help your bridesmaids understand the overall vibe you're aiming for.
Your wedding day is a celebration of love, friendship, and individuality. Embrace the trend of mix-and-match bridesmaid hairstyles and let your squad shine in a way that feels true to them. After all, a happy and confident bridesmaid is the best accessory a bride can have!
Related: How to Create a Cohesive Makeup Look for Your Bridal Party