We always say that the most important thing about your bridal style is that you look and feel like the most gorgeous version of yourself on your wedding day. For some brides who wear glasses on the daily, that means donning their specs on their big day too. And why not? Glasses make a fabulous style statement (as well as making sure you don't stumble walking down the aisle!). If they're part of your signature look, then you'll want to incorporate them into your bridal look too. But what's the best way to do it? And which hair and makeup choices will best complement your frames? We've got the answers – along with some gorgeous inspiration from our Make Me Bridal pros!
Make your glasses a feature. The most important thing to know is that, if you're going to wear glasses on your wedding day, they should be treated like any other accessory. Pick out a new pair that complements your dress and wedding style. For example, vintage frames are ideal if you're rocking a vintage-inspired wedding dress, while sleek modern frames will work best with a minimalist sheath. Clear, metal or embellished frames tend to work best for brides, but you can also make a statement with a dash of colour. If you opt for metallic frames, be sure to match them to other metallics in your wedding palette, or to your wedding band.
Take your hairstyle and accessories into account. While you can wear glasses with just about any bridal hairstyle, it's worth considering the overall effect. For example, a very stiff, structured updo may look too severe with your specs. Instead, ask your hair stylist to create a softer, more romantic textured style – and be sure to bring your eyewear to your hair and makeup trial! If you're wearing a veil, be sure that there's nothing on the frames that can snag or opt for a pretty hair accessory instead.
Use lashes and liner to make your eyes pop. Eye makeup detailing can sometimes get lost behind your lenses or compete with the frames. Opt for neutral shades of eyeshadow and add definition with a tiny bit of shimmer along the bottom lash line. Use eyeliner to balance out the frames (i.e. thin eyeliner for thin frames, thick eyeliner for thicker frames) and finish off with lashings of mascara.
Contour and conceal! With glasses on, your complexion will be more of a feature, so you want to look flawless. It starts with solid skincare leading up to the big day, followed with a great foundation, and expert contouring and highlighting. Specs can cast shadows under the eyes, so be sure to add plenty of under-eye concealer in a light-reflecting formulation.
Don't forget your eyebrows. Just because your glasses cover (or partly cover) your brows doesn't mean you shouldn't give them the attention they deserve. Get them professionally shaped about a month before the wedding so they're looking good.
Go for a bold lip. If you're a gal who likes to rock a red lip, you'll be glad to know they're the perfect finishing touch to balance out glasses. And not just reds, either. Bright pinks, berry shades, oranges – all can work well for a statement lip that turns heads.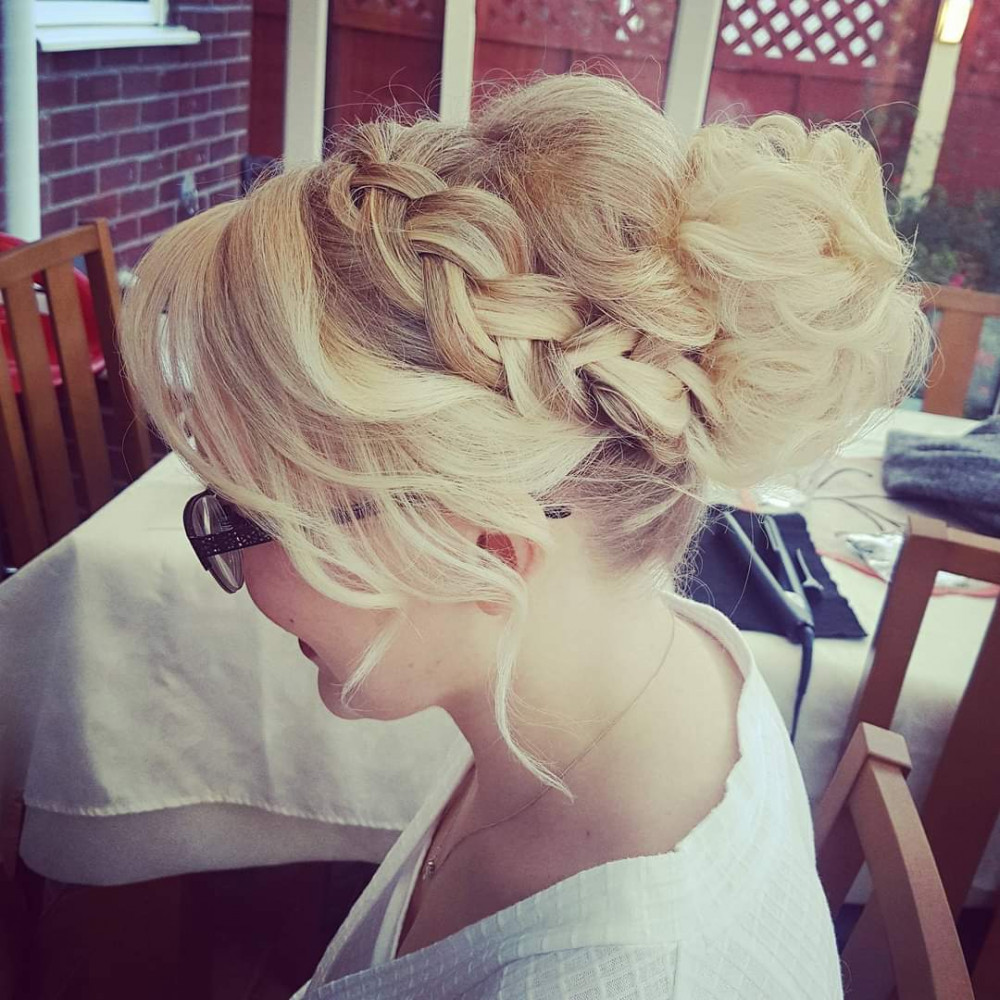 Whatever look you choose, it's important to choose an experienced hair and makeup artist who knows how to work with brides who wear glasses and will support your decision not to opt for contacts, if that's what you want. And, as mentioned above, be sure to bring your glasses to your hair and makeup trial, so you can go into the wedding morning confident you'll look your best.