Headbands are THE accessory of the moment, and the stylish trend has impacted bridal as well. From bold statement headbands to delicate jewelled numbers (like the Jennifer Behr headband actress Hilary Duff wore to her own wedding), this is an accessory that can instantly elevate your bridal look. They frame the face beautifully, instantly creating a regal, polished aura. They're a perfect, sophisticated alternative to a tiara, flower crown, or veil, and can also work as a way of transitioning your bridal style from ceremony to after party. And bridal headbands work with a variety of hairstyles, providing even more versatility. Ready to channel your inner Blair Waldorf? Here's how to rock the look, along with some gorgeous inspiration from the talented Make Me Bridal pros!
One of the best ways to make a bridal headband really stand out is to wear it over a low ponytail or bun. It looks polished and will help to keep your sleek locks set throughout the wedding day.
While bridal headbands look great with sleek styles, they also lend themselves to loose waves or laid-back updos. A pearl headband perfectly frames the bride's soft curls here, and adds volume at the crown.
It's important to coordinate your bridal headband to your wedding dress. Here, the side detail on a smooth padded headband complements the embellished sleeves on an otherwise minimalist dress design.
You don't have to choose between a headband and a veil. This bride wore a combination of the two that cleverly walked the line between modern and traditional. It paired perfectly with a sleek low bun and centre part.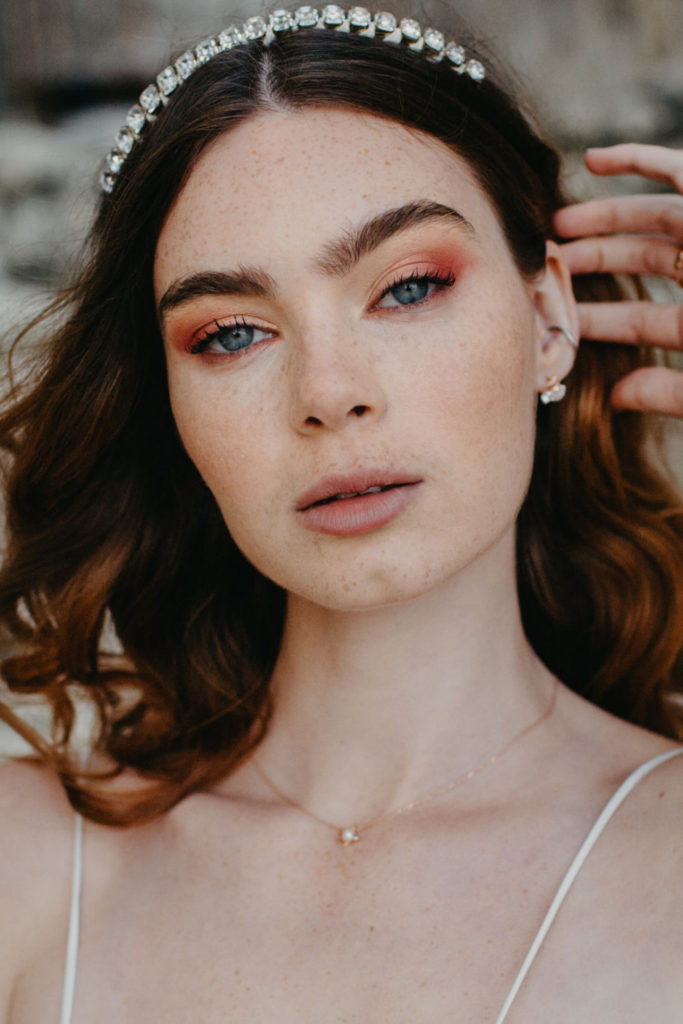 This simple but statement headband is embellished with chunky Swarovski crystals that will catch the light beautifully and deliver just the right amount of sparkle to elevate your bridal look.
Another advantage of a bridal headband? It'll keep your hairstyle in place all day! This delicate crystal design holds back the bride's beautiful natural curls, allowing plenty of fullness while keeping it comfortably off her face.
Flowers aren't just for floral crowns and bouquets! If you're a nature-loving bride, choose an accessory that combines beautiful blooms with the face-framing powers of the headband. It looks super romantic here with a loose curled updo with soft tendrils hanging down.
If you love the look of a pearl headband, why not go for the wow-factor and embrace a statement piece? The bigger the better! Do bear in mind that heavier styles may become uncomfortable, so choose your headband carefully or plan to wear it for only part of the day or night.
Layer pearl headbands for a statement look or stick to a single strand for a more minimal aesthetic. We love this double band look combined with delicate pearl earrings and a bubble ponytail.
Can't choose between diamonds and pearls? Have both! This stunner pairs eye-catching crystals with delicate pearls for a showstopping ethereal effect. You can pick up the embellishments in your other accessories, like earrings or a bridal clutch.