Danielle and Matt are a couple whose day-to-day style is very much like that of their wedding: glamorous but effortless and relaxed. Their spring wedding took place at The Tudor Barn in Burnham, with its beautiful timber beams and miles of landscaped gardens. It mixed classic navy accents with whimsical rustic touches like burlap and wood, and fresh-from-the-field wildflower bouquets. Make Me Bridal hair pro Jennifer Fogerty of Pin-Ups Hair & Make Up was on hand to create Danielle's natural-meets-glam bridal hairstyle, which perfectly complemented her crystal embellished mermaid gown!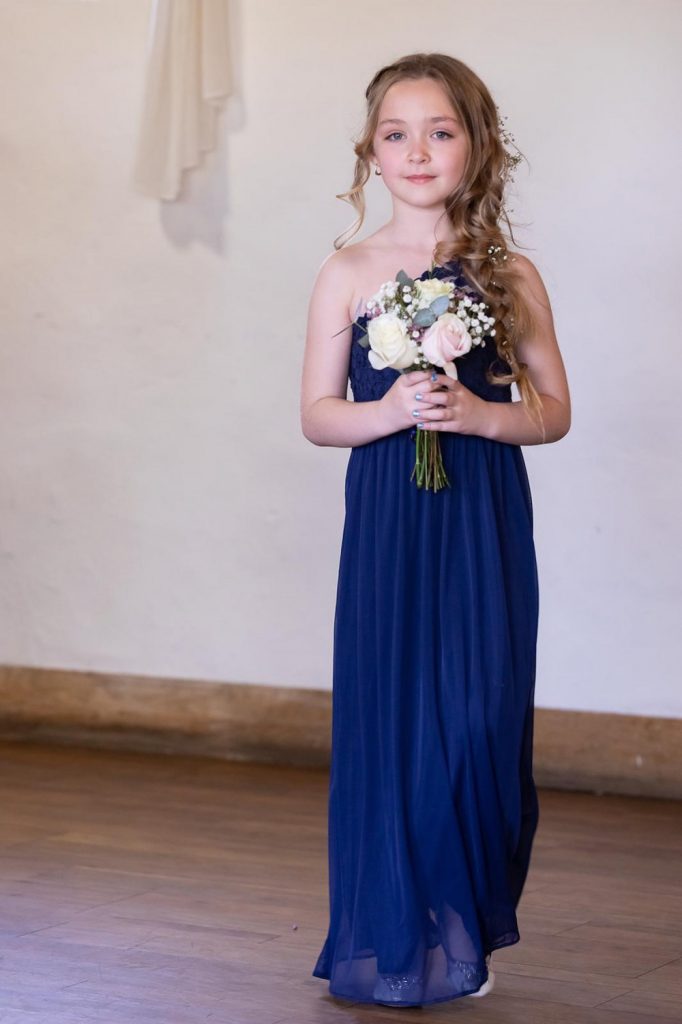 Danielle followed Jennifer on Instagram and fell in love with the styling of one of her previous weddings. At the hair trial, Jennifer trialed both high and low updos, with the bride ultimately deciding on something in between for her big day. Danielle's hair was perfect for creating the style she wanted, a voluminous updo with lots of loose tendrils. Without the need for extensions, Jennifer set her hair in a pin curl set and teased each section to create volume. Then, using a donut on the crown, she brought the curls back section by section into a messy bun, ensuring there was plenty of soft, loose hair, especially around the face.
Jennifer loved the look Danielle chose for her bridal party. They all had side buns with a French braid going into the bun. Danielle and Matt's daughters, who acted as flower girls, both sported pretty side braids. Says Jennifer: "The wedding morning was great fun as Danielle and her maids spent the morning in high spirits, and Danni was very calm up until the last minutes." Both the bride and her retinue looked flawless, thanks to makeup artist Lauren Hall.
Berkshire hair and makeup specialist Jennifer Fogerty of Pin-Ups Hair & Make Up specialises in making her clients feel their very best at their special event, from weddings to birthdays and other occasions. Based in Windsor, she also serves surrounding counties and Newcastle upon Tyne. You can see her profile here.
Featured Hair Artist: Pin-Ups Hair & Make Up