When nailing down your wedding day beauty, choosing a makeup look that will complement your natural features is essential. For example, your eye shape and skin tone. You also want a style that will make your eyes pop – incredibly if you're blessed with striking baby blues!
The right makeup tones will enhance your iris's colour and make your skin look healthy and bright. But which wedding makeup looks best with blue eyes? To find out, we went to our archive for some gorgeous looks.
Top Makeup Looks For Blue Eyes
Created by the Make Me Bridal makeup pros at real weddings and shoots, if your eyes are your 'something blue', you will find inspiration here!
Warm Tones Work Great for Blue Eyes
Warm tones like copper, gold, and warm browns enhance blue eyes. Black liner creates a glamorous look, while a warmer-toned liner, like a deep chocolate brown, would have a more natural effect.
Shimmer Makeup Can Work Well With Blue Eyes
While matte eye shadows are incredibly flattering on blue eyes, shimmers can look great too, especially in warm shades. For a bridal look, gold champagne metallics are beautiful, especially with a bit of highlight on the inner corners of the eyes.
Light Eyeshadow and Black Eyeliner
Light or white eyeshadow smoked out at the corners and contrasting black eyeliner will make blue eyes stand out. Don't forget beautifully filled and defined brows to complete the look!
Purple-Grey Eyeshadow with Blue Eyes
Another option for blue-eyed brides is to opt for purple-grey eyeshadow hues. They particularly flatter lighter skin tones, so often work best on blonde-haired, blue-eyed brides.
Top Tip For Blue-Eyed Brides
To make blue eyes look wider, sweep dark shadow above your lash line to the centre of your eyes and pair it with minimal liner on the lower lash line. Fluttery (but natural-looking!) false eyelashes complete the look.
The Classic Smokey Eye Look and Blue Eyes
A classic smoky eye is always a dramatic look for blue eyes, especially for brides with pale blue irises. For a more natural look, stick to lighter neutral tones.
Red Lip Sets Off Blue Eyes!
Love a bold, retro lip? You're in luck! A bright red lip can really set off blue eyes. Be sure to pick a red lipstick with blue undertones to get it right.
Pink Can Work on The Lips AND Eyes of Blue Eyes Brides
If you'd like something a little softer, a rosy pink lip is also a great choice as pink shades contrast prettily with blue. Another option is to pick up pink shades in your eye shadow.
Natural Makeup For Blue Eyes
Of course, soft, natural, no-makeup makeup is also an excellent option for brides with blue eyes. This look plays up the bride's flawless skin, with a peachy golden tone on the lids and a soft pink blush on the cheeks. Light liner and a sweep of mascara finish it off perfectly.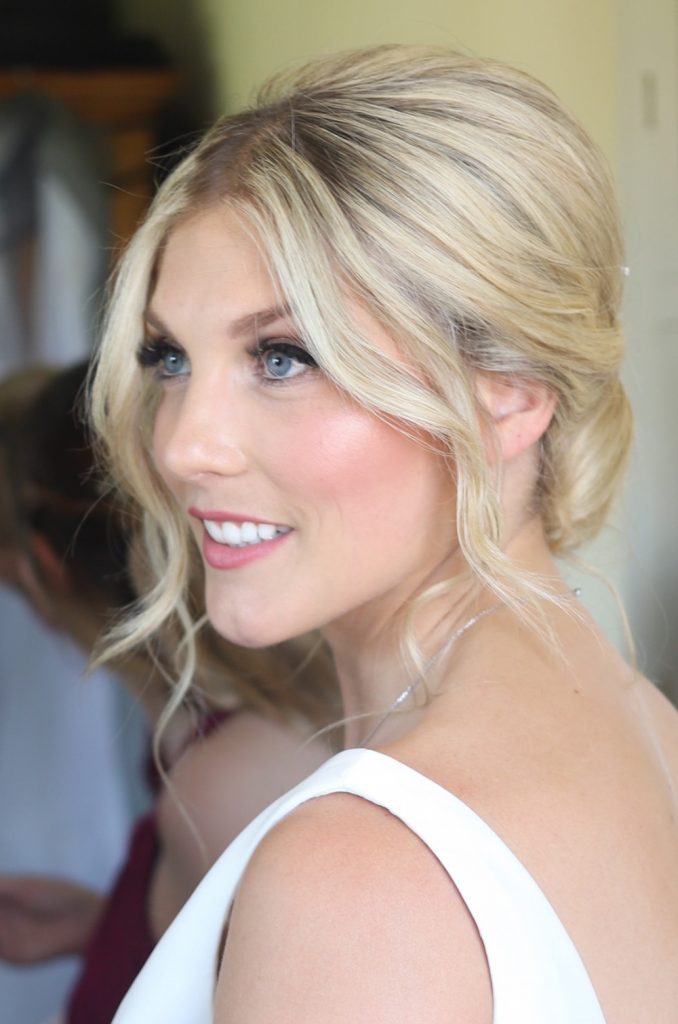 Blush can do a great job at drawing attention to the eyes, whatever their colour. It leads the eyes to the highest point of the face. A rosy pink blush looks lovely on many blue-eyed brides, both blonde and brunette.
See a look you love? Be sure to talk it over with your professional makeup artist to be sure it suits your skin tone and complements the rest of your look.