We're taking a step back in time with this romantic bridal shoot, partly inspired by the 19th century Pre-Raphaelite movement, and its iconic alabaster-skinned women, with their loose waistlines and flowing auburn hair. The venue was historic too, an antique B&B on a London street once populated by silk weavers and merchants. It provided the perfect backdrop for these painterly portraits. The look was classical with just a touch of the theatrical, using natural light and vintage décor. Make Me Bridal pro Andra R. Petrea of "I Do" Bridal Services created the beautiful hair and makeup for the shoot, providing gorgeous inspiration for the modern bohemian bride.
Andra was inspired by the location and theme in creating her modern Pre-Raphaelite bridal look. She created a light and pure base of glossy skin with minimum coverage, for that luminous glow-from-within look, that beautifully emphasised model Brydie's natural freckles. The eyes were kept soft and glamorous, with warm rosy bronze tones, while the lips were sensuous but natural in nude.
For the boho bridal hairstyles, Andra wanted to incorporate the model's luscious, naturally curly hair. It was styled in a variety of looks, from the classic loose, wavy curls of the Pre-Raphaelite beauties, to relaxed updos. All were brought to life with the beautiful hand crafted hair accessories from Vivi Embellish.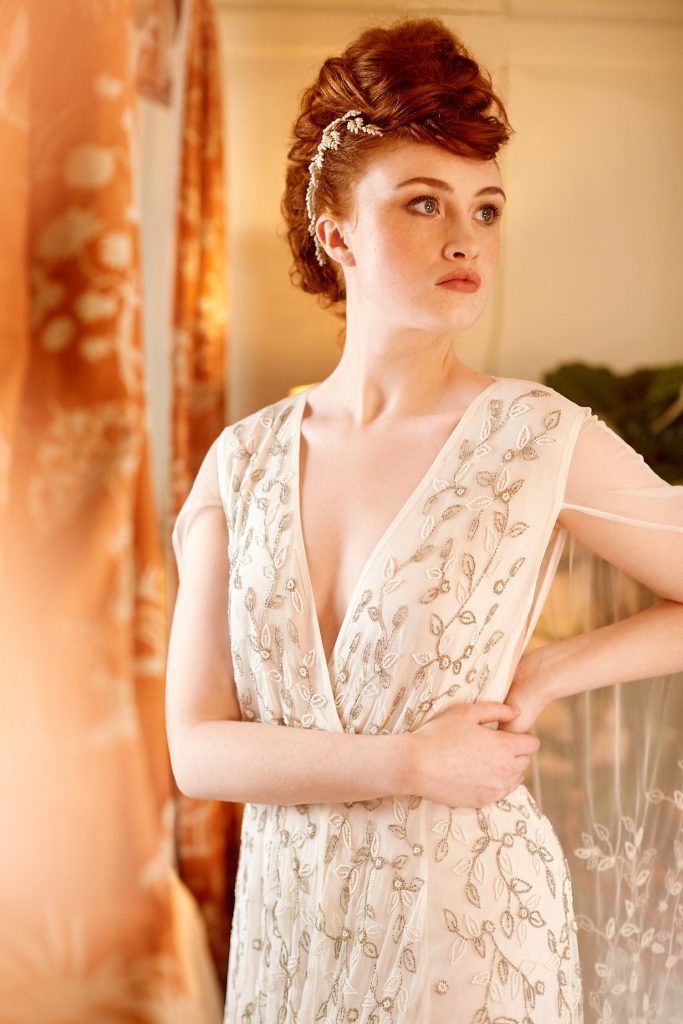 Andra is a London-based makeup artist and hairstylist with a passion for beauty. Her hallmark look is that of fresh, glossy skin, soft glam makeup, and effortlessly elegant hair, but she tailors a look for each of her brides so that they feel like a superstar on their wedding day. You can see her profile here.